Boring® is a New Zealand oat milk company that makes oat milk in New Zealand, using New Zealand oats.
Boring® was founded by Morgan Maw. Originally from Taranaki, she's a big fan of New Zealand and loves heaps of things that New Zealand is really good at like nature and tramping and birds and the beach. Another thing about Morgan is she really knows her oats. After seven years working with them producing Bonnie oatcakes, and three years establishing Boring®, Morgan has learned just about everything you possibly can about this glorious grain. Morgan knows her coffee too, cutting her teeth on the machines at Coffee Supreme's Hopper St roastery during her uni days in Wellington. Who better to produce a truly New Zealand oat milk that's perfect for flat whites and latte art (and all that other milk stuff too)?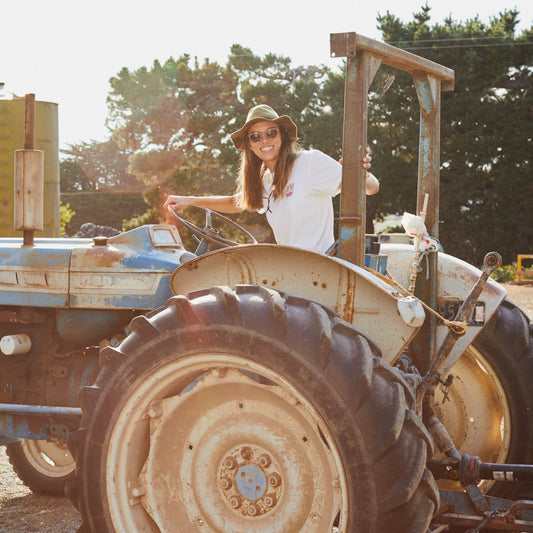 Boring® oat milk isn't made anywhere fancy like Sweden, it's proudly made in Hawke's Bay. This means that the only overseas journey our oats make is from the South Island to the North Island, where they get processed along with our other ingredients into delicious and nutritious oat milk.
**Oats** Where? Otago and Southland Who? [Harraways](https://www.harraways.co.nz) **Water** Where? Heretaunga Aquifer, Hawke's Bay **Hi-oleic sunflower oil** Where? Canterbury Who? [Pure Oil NZ](https://pureoil.nz/) **Sea salt** Where? Marlborough Who? [Dominion Salt](https://dominionsalt.co.nz/)
Plant-based milks commonly feature oil in their ingredients lists. This is because they are naturally low in fat so adding oil helps achieve the desired nutritional fat content, mouthfeel (fancy name: viscosity) and in the case of Boring® Barista Oat Milk, 'micro-foamability' when heated, steamed and stretched by pros in cafes. We use a locally sourced, non-GMO, hi-oleic* cold-pressed sunflower oil in our Boring® oat milk formulations as we believe it strikes a nice balance between sustainability and nutrition. It is also neutral-tasting so allows the oat flavour to come through – it is oat milk after all. *Hi-oleic oils are vegetable oils that are lower in omega 6s, lower in saturated fats and high in stable, healthy monounsaturated fats.
The sugar in Boring® oat milk is actually derived from the oats themselves. During the production process we add natural enzymes which break down the starches in the oats and release sugars. This gives Boring® oat milk its nice creamy mouthfeel and naturally sweet taste. The amount of sugar per serving in Boring® oat milk is comparable with cow's milk and other unsweetened oat milks.
It's actually quite boring. Think lots of stainless steel tanks and pipes. But if you still want to know more then please, read on: First, we take our beautiful, plump, New Zealand oats and mix them in large tanks with water. Then the oats are wet milled and natural enzymes are added. The enzymes break down the starches and release sugars (like maltose) which gives Boring® Oat Milk its naturally sweet taste and gives it a bit of body. This mixture is then put through a decanter which separates the solids from the liquid, with the liquid now resembling a thick, syrupy porridge. We then add in the remaining ingredients and heat-treat the oat milk to give it a longer shelf life. It is then put through a homogeniser which is basically a fine mesh sieve. The bottles are blown into shape on the line to make sure the product is safe and super sterile. They are then filled with a litre of delicious Boring® Oat Milk. And that's it. Making oat milk is pretty easy really but making a great oat milk? That's when things get trickier. And making a great oat milk in New Zealand? Well, they said that was impossible.
Curly question. The short answer is technically, no, they're not gluten free, but if you want to dig a little deeper, please read on. There are lots of different types of proteins in the gluten family, with avenin being the one found in oats (it's gliadin in wheat, hordein in barley and secalin in rye). Avenin is the friendlier of the gluten family and many people who are gluten intolerant can still enjoy their daily dose of oats. The Food Safety Australia New Zealand (FSANZ), our governing body for food standards, doesn't allow any gluten to be detectable in products that call themselves 'gluten free'. Different countries have different regulations, so typically, when people discuss gluten-free oats what they actually mean is that they have been grown and processed without coming into contact with wheat (or barley or rye). So, if you're Coeliac, oat milk may not be the milk for you, but if you're gluten intolerant, it might be. Still not sure? Have a chat with your health professional.
No siree. Glyphosate (aka herbicides) are used by farmers to control weeds and also, controversially, to assist in drying out crops just before harvesting them. We source our oats from Dunedin mill Harraways, who since 2019 have included in their supply agreements that their oat farmers are prohibited from using glyphosate during the growing process. Additionally we carry out independent testing of the oats we receive to double check no one is telling fibs and ensure they're glyphosate free.
Currently they're not organic, as there aren't enough organic oats grown in New Zealand to supply the amount we need to make our oat milk. Right from the start we've committed to making a New Zealand made oat milk using New Zealand grown oats, so importing oats – organic or not – has been out of the question. Side note, we are hot on biological arable farming, a way of growing oats that uses aspects of nature and inputs to maintain soil health and emissions in a considered and more sustainable way.
No. Boring® oat milk contains only calm, well-behaved oats from the South Island.
Boring® Barista Oat Milk (green bottle) has been developed for and with coffee professionals and is made to be heated, steamed and stretched all day long. To keep those flat whites nice and creamy, we have added more hi-oleic sunflower oil than our Boring® Original Oat Milk (oatmeal-coloured bottle). To stop the milk from 'feathering' (aka splitting) when adding to coffee, we have also added a small amount of dipotassium phosphate to the Barista Grade milk. Wait, dipopotamos what? Dipotassium phosphate is a water soluble salt, extracted from phosphate rock and is often used in plant milk as a buffering agent. This is because coffee is acidic (has a low pH) and the dipotassium phosphate prevents the pH in coffee from dropping too much to the point that it would split. TL;DR the green one is made for coffee and is great for pros in cafes and also everyday milk stuff at home. The oatmeal-coloured one is an all-rounder and plays best supporting actor to cereal, porridge (oats on oats), smoothies, baking and hot drinks. It also contains less fat and no dipotassium phosphate.
Yes you may. As you've heard, Boring® Barista Grade Oat Milk is great in coffee but it's equally great in tea, on porridge, in smoothies or glugged straight from the bottle. In fact, it's boringly similar to milk, just without the actual milking part. Shake well before use.
Because it's the best of a bad bunch sorta situation. Would you like to know more? Read on; We chose clear PET (plastic grade 1) as it is the most recyclable option for longlife milk containers in Aotearoa as all councils accept packaging made from PET (and HDPE – plastic grade 2) in household or free drop-off collection points*. 97% of New Zealanders have access to facilities to recycle plastics 1 (PET), which our bottles are made from. These types of plastic are widely accepted in kerbside recycling and free drop-off points because there are high volumes of these materials and they are easily recycled and turned into other useful products, both in New Zealand and offshore. If the plastic is of high quality, it can be recycled back into the same product e.g. drink bottles can be recycled back into drink bottles. Plastics 1 and 2 can be recycled an estimated six to seven times before no longer being recyclable. This is unfortunately not the case for other popular plant milk packaging such as Tetra Pak. These types of cartons are typically made up of multiple layers – paperboard, aluminium and polyethylene plastic – which makes them extremely complex to recycle. Tetra Pak is unable to be recycled but only downcycled into products such as roofing tiles and decking, which currently there is little demand for. The infrastructure to process Tetra Pak is not developed in Aotearoa New Zealand with the majority of spent cartons either sent to landfill or overseas to be downcycled. It's estimated that between 60-70% of Tetra Pak is sent to landfill worldwide. Why not glass? For all its 'good', glass has high carbon emissions – for example a glass bottle must be reused 20 times to make its carbon footprint comparable with a recycled PET bottle. This is part of the reason why a number of craft beer breweries are now moving away from glass to aluminum cans. Additionally glass isn't as sterile (aseptic) as PET, so our milk would need to be chilled and would only have a 30-day shelf life. The shorter shelf life would create greater food waste and would also mean higher emissions through chilled freight and refrigeration. That said, we are exploring ways to offset our use of plastic packaging and ultimately are committed to removing our reliance on using fossil fuels. As part of this, we're aiming to move to Recycled PET (rPET) bottles and sustainable sugarcane caps in the near future. It's a journey and we are trying our best to find out what is really the most sustainable solution. *Chatham Islands is a unique snowflake as it only accepts plastic code 1, not 1 and 2.
First, tear the sleeve off the bottle and place in your rubbish. We are working with our supplier to develop alternative sleeve materials, one possibility is a PET sleeve with washable inks that can be recycled together with the bottle, but for now we ask that customers separate the sleeve first. Then rinse the empty bottle (PET - Grade 1) and pop into your kerbside recycling and for now, put your cap in the rubbish. If you are in Auckland you can replace the cap (HDPE - Grade 2) to recycle with your bottle, as Auckland has the infrastructure to recycle the bottle and cap together.
The sleeves on our oat milk bottles include a written instruction to 'Tear sleeve off the bottle before recycling'. However, removing the sleeve has gotten much more difficult lately as the perforation has disappeared. Where has it gone? Recent changes by our sleeve supplier to how our sleeves are produced resulted in some headaches when adding the sleeves to the bottles during production. Essentially the sleeves were snapping at the weakest part of the sleeve (the perforation) when being added to the bottles. For this reason, we temporarily removed the perforations while further trials were done to make improvements. The good news is that our supplier and the Boring production team have been working around the clock to 'bring back the perf' and the issue has now been resolved. In the background we are also working on some other improvements to the sleeves which will be coming to a Boring oat milk bottle near you before the end of the year.
Being relatively new to the beverage game we were surprised to learn that metal and plastic bottle caps are often not recycled via kerbside recycling in New Zealand. They are too small to be detected by the optical sorters at recycling centres and end up going to landfill. We know that in Auckland best practice is to rinse the empty bottle and replace the cap. However for the rest of the country, it's a bit of a different story. We're holding out hope for the Government's proposed Container Return Scheme but in the meantime we are really grateful for community organisations such as the Sustainability Trust. It is by no means the perfect solution but as we've discovered over the past three years of product development, no packaging option for beverages is.
After the decanting process which separates the oats from the oat concentrate (confused? Refer to 'How do you make oat milk?' question above) we are left with a pile of what is referred to in the beverage biz as 'spent grain'. This necessary byproduct of the oat milk making process is donated to surrounding farms to use as feed for pigs. In the background, we are working on a less boring use for the spent oats which we will be sure to keep you updated on.
Where do we start? Oat milk is not only better for you, it's better for the environment. First off, oat milk is delicious. But that's not all, oat milk is high in fibre and has more protein than almond milk. The fibre in oats is a beta-glucan and is proven to help reduce cholesterol. Because we've got your needs front of mind, we've gone ahead and added some vitamins (calcium, B12 and B2 (Riboflavin)). You can trust that we haven't added any of the nasty stuff, like GMOs, sugar, thickeners or gums. Increasing your plant-based consumption is proven to benefit not only you, but the planet too. The intensification of dairy has led to high methane and carbon emissions and poor soil health. Almonds use too much water, are predominantly grown in drought stricken areas and are harmful to bees. Soy has been linked with deforestation in the Amazon and is often genetically modified. What about oats? Well, oats are a fantastic rotational crop; they are nitrogen hungry, require little water, replenish our soils and what's more, they grow incredibly well in our little pocket of the world.
Yes, yes it is. Oh and it's free from soy, nuts and GMOs.
Nope. Boring® Oat Milk can be stored at room temperature until you're ready to use. Best served chilled and once opened, remember to keep in the fridge and use within seven days. Shake well before use.
Our oat milk can be bought here on our site and in supermarkets and grocers nationwide.
Tell them they can send the Boring® team an email at hello@boringmilk.com to request a flyer with all the boring details. Alternatively, they can click [here](https://trade.boringmilk.com/account/register) to fill in a wholesale account application form and start ordering from our website.
If you're one of the interesting people who has already purchased a subscription you'll have an account waiting to be activated. Use the email address you entered when you purchased your subscription, choose your top-secret password and all shall be revealed. (You can log in.) Can't work it out? Send out an SOS to the team [here](mailto:hello@boringmilk.com) and they can help.
You betcha. Manage your subscription any time by logging into your account [here](https://boringmilk.com/account/login?return_url=%2Faccount).
If you have more questions for the Boring® team, get in touch [here](mailto:hello@boringmilk.com), or call us on 0800 BORING For media enquiries, try [here](mailto:media@boringmilk.com)